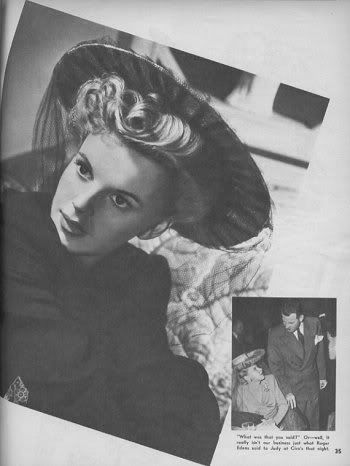 This Is Myself
from Movieland, December 1943
by Judy Garland
I USED TO:
... Work in small time vaudeville theaters.
... Be called the leather lunker blues singer, I'm ashamed to say; the little girl with the big voice.
... Dream that I was singing with a symphony orchestra - I felt as if I were still dreaming when at last it came true and I stood up to sing with Andre Kostelanetz.
I REMEMBER:
... Getting in the way of a forward-passed cheese sandwich one night when I was singing in a small time vaudeville house and how furious I was; all I could say, over and over, was "Some day!"
... My Christmas dinner when I was ten. I was singing at Warner's Hollywood theater and couldn't have dinner at home. Mother promised she'd let me choose where I would eat and what I'd have. I went to a drugstore and ordered hot tamales.
... The white party dress I wore to the Academy dinner when I won my Oscar.
... Wearing that dress again when I was footprinted at Grauman's Chinese Theatre, and how Mickey Rooney held it up out of the cement for me.
MY FIRST:
... Appearances were made in our backyard shows where my sisters and I charged ten straight pins a show.
... Poem was composed when I was four and heard my sisters making up verse. I went in for rhythm not rhyme and the result was:
Bookie, Bookie, I saw a star.
Money, money, salt, salt, salt.
... Car was a Lincoln Zephyr Convertible, a present on my sixteenth birthday, and I loved it, but I wasn't big enough to see what was behind me when I backed up, so after four months I was persuaded to give it up.
... Friend was Betty Jane Graham, who is still my closest girlfriend. We were four years old and met when we tried out for a part at Universal Studios. Betty Jane thought I would get the part, and I thought she would, so we brushed each other off. But when Cora Sue Collins got it, we fell into each others arms.
I LIKE:
... Bonfires on the beach ... Baby chicks ... Walking in the rain ... Anything chocolate ... Men who know how to handle head waiters ... Christmas Eve.
I DISLIKE:
... Dull pencils ... That put-on southern accent ... Salted peanuts ... Getting telephone connections ... Attending to details ... Mayonnaise ... Popcorn.
I'M GUILTY OF:
... Losing my keys ... eating too many chocolates ... forgetting appointments or being late ... I've never worn a watch because I'd rather not know what time it is ... And I'm the worst backseat driver in the world.
I HATE TO:
... Have my nails filed ... Go home when the party's getting good ... Wait for people who said they'd positively be on time ... Hear a baby cry and nobody do anything about it ... Grow lovely long fingernails and then have one break off ... Get up early.
I LOVE TO:
... Cook, but I hate to clean up afterwards ... Make over hats and remodel clothes ... Play tennis, Guggenheim, Ghost ... Keep the radio going or records playing whenever I'm in the house ... Spoil my sister's baby - but I never do!
I'VE LEARNED:
... From my mother - practically all I know, including singing, playing the piano, cooking and managing a house.
... From my sisters - How to get along with other girls, not to acquire a star complex.
... From Mickey Rooney - Anything I know about screen technique. The first day we worked together on a picture he said, "Let's promise each other never to work at each other but always with each other!" and we always have. He's given me plenty of good advice, including, "Don't worry!" But I'm still the world's champion worrier.
... From Roger Edens (Who does all my musical arrangements) the songs that are best for me. When I was a child in vaudeville, my favorite numbers were tunes like "Stormy Weather", which I sang wrapped in a black shawl, sitting on a piano on a dark stage, only my face spotlighted. At the song's conclusion, I threw off the shawl and the lights came on. I then did my six-year-old curtsy. I wanted to do "Drums of My Heart" for my first screen song, but Roger said no. Simple songs were best for children. He wrote "Dear Mr. Gable" for me; he was right. The people liked it, and it started me on my real screen career.
I'M LEFT HANDED:
... When I write, my hand smudges the ink as I cross the page. I've discovered that putting talcum powder on my hand will permit it to ride along without smudging. South Paws, attention!
I'M FOND OF:
... Penny candy ... John-Frederics cologne ... Novelty jewelry ... Good Humor ice cream ... Biographies ... Surprises ... A Tuesday special (a hug and a kiss from my little niece).
I WONDER:
... Where all my best answers go when I wish I could think of them ... Who invents those frightful lipsticks some girls wear ... Why weeds grow so much larger than anything else in a victory garden ... If hair that's flat on the top of the head will really come back soon ... And when the war will end.
WHEN I WENT TO SCHOOL:
... At Lawler's Professional school for children, twelve years ago, my schoolmates were Mickey Rooney, Anne Shirley (then Dawn O'Day), Jackie Cooper, Frankie Darrow, Diane Lewis; they all made good, and we're all still friends.
... I was always so busy trying to get out of studying that I never really learned anything.
I THINK IT'S FUN:
... To wash my own hair ... Dust furniture that gleams after you dust it ... Go into a shop and buy what I want without tiresome delays ... To cry at movies and eat candy while I cry.
MY NICKNAME:
... "Judaline" was given me by Director Victor Fleming in "Wizard of Oz", but only my family uses it. My sister, Jimmie's baby, Judy Gail Sherwood, is also nicknamed "Judaline".
MY BIGGEST THRILL:
... Was my twenty-first birthday party last June. My sister, Jimmie, Danny Kaye, Keenan Wynn, Dore Schary, and Betty Asher surprised me by making records of a script they'd written called "The Life of Judy Garland". It began with my first cry, which Danny Kaye gave to the tune of "Over the Rainbow" and continued in a kidding vein to tell what had happened to me in twenty-one years. It was terribly funny, but it ended with a serious little speech given by Keenan so beautiful that I cried - I was so touched and so happy.
MY SPECIAL HEROINE:
... Is Madame Chiang Kai-shek.
MY FAVORITE FICTION CHAR.:
... Is Claudia. And I want a little farm in Connecticut like the one she had, and a little house exactly like hers.
MY SECRET AMBITION:
... Is to write fiction. I've written a book of verse, and I love to write stories. I don't believe I'd care for literature as a living because I can't write unless I'm in the mood. But when I am in the mood, I can write for hours.
I'D LOVE TO
... Do a big musical show on the New York stage.
I ADORE:
... Richard Tabor's recording of "Vienna, City of Dreams". I wish I could have seen Vienna as it was in his time. I'd like to have been part of that life where all women were glamorous, all men romantic, everything was exciting, and no one was ever dull or lonely or sad.
A great article, written by Judy herself.

Source: jgdb.com